Don't miss these special presentations offered in October.
LOCAL COLOR Exhibition
October 6th, 2018 through February 17th, 2019
Opening Reception & Members Preview
Friday, October 5th, 2018 at 5:30PM
Members FREE & Guests $10 each
---

Roadside Attraction by Steve Atkinson

In our newest exhibition, LOCAL COLOR, we feature the colorful palettes and creative minds of some of the best, local western artists in Yavapai County's artistic community. Not only does this exhibit bring to life the many dynamic and stunning landscapes this community has to offer but it also depicts the rich ranching lifestyle that has prevailed in this part of the country for generations.
Featured local artists in this special exhibit include: Kathy Quick Anderson, Bill Anton, Steve Atkinson, Shawn Cameron, Dane Chinnock, John Coleman CA, Bill Cramer, David Halbach CA, Doug Hyde, Bill Nebeker CA, Robert Peters, Don Rantz, Ken Rowe and Curt Walters.
---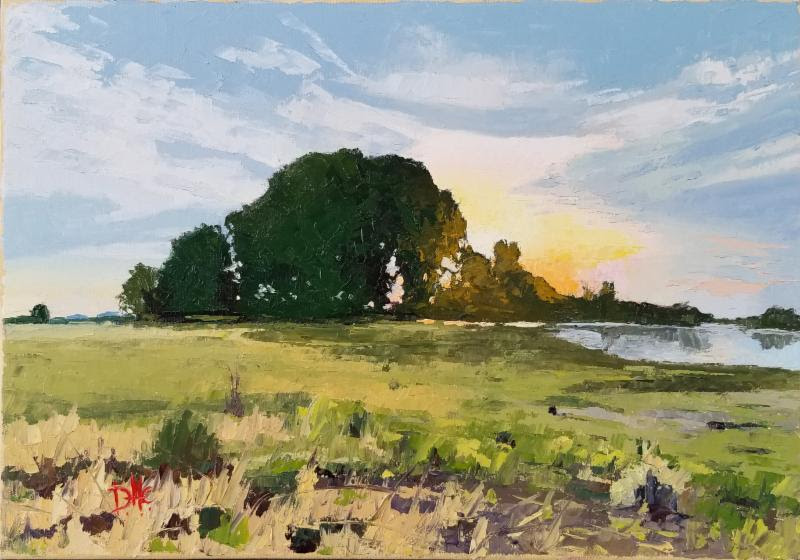 Coruscating by Dane Chinnock
From sculpture to drawings, participating artists bring unique outlooks and different artistic techniques to enhance this special presentation.
A special members preview and opening reception is scheduled on Friday, October 5th at 5:30PM with museum members admitted free and guests for $10 each. It will be catered by Goods From the Garden and a cash bar will also be available for attendees.
---
CLAY OUT WEST 
A Clay Sculpture Jamboree and Competition for Kids
October 6th – November 4th, 2018   

Through a generous grant from the Arizona Community Foundation, we will again host another presentation of our Clay Out West Clay Sculpture Jamboree for Kids, open to all Prescott area Elementary, Middle and High School students interested in trying their hands at clay sculpture. Participants will be introduced to this fascinating medium and provided hands-on workshops and special instruction. They will then be invited to execute a western-themed sculpture in order to participate in this juried competition.
First-place winning pieces in each age category will be rendered as bronze sculptures by Bronzesmith Fine Art Foundry and Skurja Art Castings, LLC.
Entry Fee: $10 per student
Sign up for these instructional sessions here at the museum.
(Please note: students may need more than one workshop session to complete their sculpture, but register early as class sizes are limited to 30.)
SATURDAY SESSIONS                         
   Saturday, October 6th & 20th from 10AM-4PM
SUNDAY SESSIONS
   Sunday, October 7th, 14th, 21st & 28th and November 4th from 1-4PM
Entry Fee: $10
   All materials will be provided by the museum.
Rules:
Sculptures should have a Western or Southwestern theme — plant, wildlife or domestic ranch animal, Western artifact or figure. Sculpture dimensions should not exceed 5 inch by 5 inch by 5 inch. All sculptures to be judged must be in the museum by 4PM on Sunday, November 4th, 2018.
Sculptures will be judged in three age categories:
* Elementary(ages 6-10)
* Middle(ages 11-13)
* Senior High(ages 14-18)
            Judging will be based on creativity and quality of artistic execution.
Register today!
To enter the competition and participate in these workshops, please call the museum's Education Coordinator, Neal McEwen, to make a reservation (928)778-1385.
---
THIRD THURSDAY DINNER PROGRAM
Where Biography Meets Historical Fiction: Sedona Schnebly with Lisa Schnebly-Heidinger 
Thursday, October 18th, 2018 at 5:30PM

Cost: $25 for Museum Members & $30 for Guests

---

ART & WINE: A Perfect Pairing 
Thursday, October 25th, 2018 at 5:30PM

Cost: $35 per person; must be 21 or older to participate
All materials will be provided.
Join us here at the museum on October 25th for an enjoyable evening of art, wine and lots of fun. This event is a two-hour excursion for those who enjoy wine and would like to learn about painting.
Discover hidden wells of creativity and explore different painting techniques as artist and Education Coordinator, Neal McEwen, leads you through the step-by-step process of creating your own original, western-themed, acrylic painting.
A fun-filled evening of art, wine and tasty snacks await participants and will result in a painting that is finished and suitable for framing. But this promises to be a very popular art event, so make your reservation now at (928)778-1385.
---
Sharlot Hall with Jody Drake
Saturday, October 27th, 2018 at 1PM
Sharlot Mabridth Hall (October 27, 1870 – April 9, 1943) is one of Prescott's most iconic and inspirational figures. And in addition to being an American journalist, poet and historian, she was also the first woman to hold office in the Arizona Territorial government and her personal collection of photographs and artifacts served as the starting collection for a local, historical institution which bears her name: Sharlot Hall Museum.
Join us for an afternoon of entertainment and historical insight as Jody Drake brings to life the special character of Sharlot Hall. Drake was born and raised in Prescott, and still calls it home. She is the Founding Director of the Blue Rose Theater which operated at the Sharlot Hall Museum in Prescott and has been presenting Sharlot Hall to Arizona audiences for the last 16 years. She has performed throughout the state and her first-person presentations mix the rich stories of the west with an enchanting combination of humor and fact.
And last but not least: our heartfelt congratulations go out to the 2018 Hold Your Horses! People's Choice Award winner, Marlin Rotach!
He was chosen by popular vote for this beautiful watercolor, Cow Pony. Along with this special recognition, Marlin will receive an Award of Excellence from Western Art Collector magazine and be the featured artist in next year's Hold Your Horses! Invitational Exhibition & Sale. Congratulations again to Marlin and special thanks to all of the outstanding artists who participated in this year's show!
PHIPPEN MUSEUM    4701 HWY 89 N   PRESCOTT, AZ   86301
(928) 778-1385      PHIPPEN@PHIPPENARTMUSEUM.ORG
10AM to 4PM Tuesday through Saturday
& 1 to 4PM on Sunday